Actus Rating Analyzer – Truly Understand Content-Rating Relationships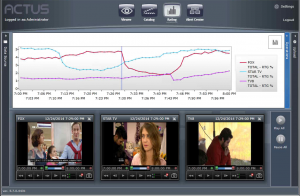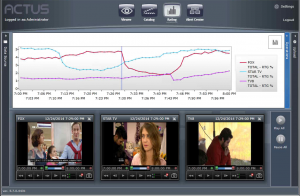 Actus Rating Analyzer – Truly Understand Content-Rating Relationships
Actus Rating Analyzer provides efficient rating and competitive analysis tools. It provides a clear graphical view of all rating information, yours and competition, along with the actual broadcast media. The clear rating and demographic data display allows you to get an easy at-a-glance information from all numbers and charts received from the rating companies. The end result is a far more accurate analysis of the content, which in turn allows research teams to give much more informative and accurate recommendations, leading to better program planning, ad placement, and even more viewers watching the shows – all significantly increasing revenues.
Actus Rating Analyzer simplifies the way you compare your rating to that of your competition. It takes the raw statistical data and transforms it to a dynamic graph displayed fully in sync with the actual broadcast material which was recorded and archived in advance.
Main Features:
Import of audience measurement data (Rating) for Rating analysis (Nielsen, TNS, Gallup, Kantar, IBOPE, etc)
Automates the imports process through the use of "Hot Folders".
Visualize your rating data with actual broadcast content
Compare the change in graph to the actual program aired at that time
Compare multiple channels
Select to display: Demographics, Reach, Rating Points, etc.
Building any graphical rating graph/comparison: different channels same time, same channel different times, …
Archive your rating information
Share critical information with key people
Web application – no client software required!
Easy Comparison of your and your competitors' rating
Fully interactive effective analysis
Why do I need Actus Rating Analyzer:
The rating Analyzer is a most powerful tool for rating and competitive analysis – no need for excel files
Easily share critical information with key people
Faster analysis and and response time
Easy understanding of content-rating relationships
Easily present findings to program planners, advertisers, etc
Workflow
The infrastructure is the digital recording system, which records all broadcasts 24/7, and archives it for a selected period. The video serves as the contextual base for analysis.
Once the content is available, Actus Rating Analyzer allows you to upload raw rating data and visualize the information along with the relevant recorded content. This unique approach is using visualization tools to actually understand viewers' behavior, minute by minute, across entire shows, commercial breaks and promos.
Thus, Actus Rating Analyzer allows research personnel to analyze the media in a graphical and contextual environment, rather than making them work on many spreadsheets and other textual information that is out of context.