Actus clip factory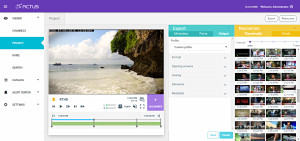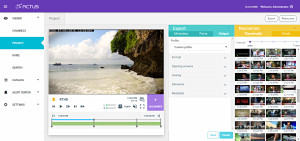 Actus clip factory
Broadcast Content Repurposing with Actus ClipFactory
Actus ClipFactory is a powerful software product capable of automating your broadcast clipping and transcoding workflows, enhancing your media with metadata, whether it is broadcast TV, radio, CCTV, or other video or audio sources.
Clip Factory is the one-stop-shop solution to content re-purposing for the new media platforms
With Actus ClipFactory, easily create clips for OTT, for Catchup TV, VOD (Video On Demand) and clips for mobile.
ClipFactory is a one-stop-shop alternative to a multitude of separate products for capture, encoding, editing, transcoding and delivery of clips. Thus, ClipFactory saves you both complexity and costs. ClipFactory incorporates video recording, content extraction, editing, metadata application, transcoding and delivery management into a single streamlined solution. The ClipFactory API allows you to automate the whole Clips creation workflow.
Main Features:
Repurposing Linear (Live) TV into VOD clips
Advanced cut-to-cut editing, including cutting segments into parts.
Creation of full HD, frame accurate clips
TV Transcoding to any format, resolution and bitrate
Customized metadata assignment per part and per segment.
Built-in Catalog (simple MAM) for clips management.
Export to multiple destinations (E-Mail, FTP, Network Share, YouTube, and Internal Catalog).
Ability to create and save profiles (Bitrate, Frame size, File Format and Destination)
Automated clipping and distribution for predefined programs.
Built-in job management and approval.
Ability to add overlays, text, logo, date and time stamps.Powerful Boolean search engine
Easy Ads removal
Web application – no client software required
Why do I need Actus Clip Factory
One stop shop for preparation of content for OTT, Catch-TV, WebTV, VOD and mobile platforms
Automatic clips creation – more cost effective than manual editing
Speed up clips creation and delivery
Higher frame accuracy than manual editing
Content sharing to all screens
Removal of ads from programs
Distribution of video content across departments in the organization and outside of it.
Workflow
In order to accomplish this "all-in-one" approach to content production and delivery, ClipFactory harnesses the available linear feed in order to capture and record the video at any required quality, from any type of interface – whether it is analog, SDI or IP transport. Once the content is available, ClipFactory allows you to extract the content using a powerful streaming web-player, to edit the content and assign all required metadata information, transcode the clip into various industry standard formats and frame sizes, and deliver the content to its designated destination.
Access content from anywhere
The Clip Factory is a web application. No need to install any client software and can be accessed from any connected workstation inside the organization or even from a remote location.
Fast clips creation and delivery
With Actus ClipFactory your content is ready to be viewed within minutes.